Nail care is increasingly becoming something most people are adopting. The realization that proper nail care is a big part of self-care has made many people prioritize their nail care. As a result, nail art has also found its way, with artists inventing new designs and styles. An example of a popular type of nail art is the french manicure. It is essential to get it right if you want to stand out. This article explains how to achieve the best french manicure for the holidays. Make sure to turn heads and have friends inquire about your nails this holiday by sticking to the following tips.
Utilize a Stamping Tool
Not everyone can achieve the perfect nail french art without some help from a tool. However, you do not have to be a nail painting expert in French nail design if you own a stamping tool. This simple gadget ensures that you get the best-done tip. What's more, these stampers are easily available and at an affordable rate. You can order your favorite at Amazon or any other online store selling cosmetic stuff. You will be surprised that most stamps will not exceed $10, which is a worthy investment.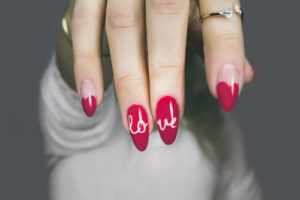 Image Address: Unsplash.com
Anyone can use these stampers. Start by applying several coats of the nail paint color you want for the tip of your French manicure. You can then gently press the stamp on your fingernail, ensuring it is at an angle.
Additionally, rock the tool making back and forth movements for a while, ensuring the entire nail is well coated. You can then remove the tool, leaving you with the perfect French tip. The results will be just like when a professional nail artist handles it. Consider using this pro tip when next you feel stranded because your nail artist is fully booked or whenever you want to try things on your own.
Explore the Use of Manicure Stickers
Are you looking to achieve a perfect French manicure and cheat out the long hours at the nail parlor? Well, nail stickers are an excellent solution for lazy or extremely busy ladies. You do not have to look unkempt or neglectful because you have no time to book an appointment with your nail artist. All you have to do with stickers is to paint your base coat and allow it to dry completely.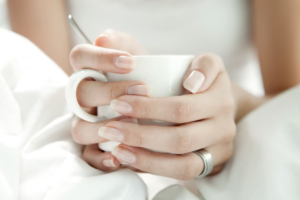 Image Address: Unsplash.com
Once this is done, get the sticker and place the round manicure sticker below the tip, and secure the edges. Once done, proceed to paint with your favorite color. The sticker will allow you to point outside the lines. You can then wait for the tip color to dry and gently peel the sticker, revealing a crisp line. Finally, gently peel off the sticker once the tip color is dry, leaving a crisp, fine line. Again, this is something anyone can do at home and save themselves the time and stress of having to visit the salon.
Apply the Rolling Methodology
Sometimes you are so busy that buying stickers and stamping tools are not an option. In such cases, you can still achieve the perfect French manicure by using the rolling technique. This requires you to take a different approach to turn the brush sideways and start from the nail line. Keep the brush steady and still as you roll the fingers towards the side.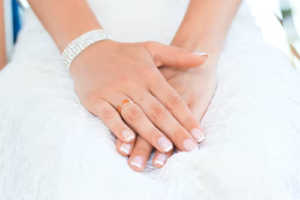 Image Address: Unsplash.com
If you are unwilling or uncomfortable using the brush, use a makeup sponge. Put a bit of nail polish on it and use a similar technique. This way, you can easily attain a cleaner and uniform line because of the increased stability. In addition, the sponge reduces wayward movements, making it easy to get the perfect French tip.
Do not Forget toe Post Clean-up Brush
Regardless of the French manicure technique, you fancy, you must acknowledge the post painting cleanup. If you want your work to turn out like a pro, you should acknowledge what every nail artist does; the cleanup brush is a best friend and must-have tool. This is what you would consider as the magic eraser. Use it to get rid of any unwanted or excess nail polish. It comes in handy in different situations.
For example, if you have very thick lines, this brush can help you thin the line a little bit. You can also use it to eliminate any excess nail paint that may have gone on your skin. This is simple to use since all you have to do is dip the brush in some nail polish remover and clean any excesses you want to do. It helps you refine the French manicure outcome to perfection. Any pro knows how important it is to clean off the edges of your nail polish.
Patience Pays so Take Your Time
When working on a French manicure style, patience is key. Besides having a good action plan, the best French manicure takes time. You need to start with a perfect base coat if the manicure is to last long. Besides doing this, observe how the nails actually look and then determine the best color to go with. You need to apply the right nail paint color and follow the lines properly. Once you figure out this part, you need to give the applied coat time to dry completely.
Image Address: Unsplash.com
Please don't make the classic mistake of applying the sheer coat without allowing the tip to dry as it should. This affects the results since you will push the white paint into the pink application. While it is true that French manicures are pink and white, several variations make them unique. Try combining different bold colors to get a different French manicure version.
You could also play around with texture or even try a pattern interchange. Whatever you do, make sure it is a clean finish. After all, you are going for the holidays, and you want to stand out. Getting the French manicure right, regardless of the variation, is one of the easiest ways to have everyone talking about how you look.
Final Thoughts
French manicure will remain one of the most classic manicure styles. The good news is that you do not even have to visit your nail artist to achieve an excellent look. With the tips suggested above. Anyone can create the perfect French manicure for the holidays.