When it comes to sprucing up your garden, there are endless possibilities for outdoor décor. From colorful planters and vintage finds to comfortable seating and stylish lighting, there are so many ways to personalize your space. And the best part is that you don't have to spend a fortune to do it. With a little creativity and elbow grease, you can transform your garden into an oasis that you'll never want to leave.
Here are some amazing ways to spruce up your garden with outdoor décor:
Place an Outdoor Fountain
Outdoor fountains are a great way to add a touch of elegance and sophistication to your garden décor. They can also be used to create a relaxing and peaceful atmosphere in your outdoor space. A birdbath fountain is a perfect way to attract wildlife to your garden, and a small waterfall fountain can add a sense of serenity to your backyard. Fountains come in all shapes and sizes, so you can find one that fits perfectly into your garden.
If you're looking for a way to spruce up your garden décor, an outdoor fountain is an excellent choice. Not only will it add beauty and interest to your space, but it can also provide a calming presence. Whether you choose a small waterfall or a large birdbath fountain, adding an outdoor fountain to your garden is an excellent way to improve its overall look and feel.
Hang Fairy Lights
Fairy lights are a great way to add sparkle and charm to your garden. While they may seem like simple decorations, they can actually make a big impact on the overall look and feel of your outdoor space.
You can use fairy lights to spruce up your garden in many different ways. One popular way is to hang them from trees or along fences. This creates a magical and romantic ambiance that is perfect for entertaining or simply relaxing in your own backyard oasis.
Another way to incorporate fairy lights into your garden décor is to use them as pathway lighting. This is an especially effective technique if you have a winding garden path or want to highlight certain features in your landscaping. By placing fairy lights along the ground, you can create a beautiful and inviting walkway that will impress your guests.
Finally, fairy lights can also be used to accentuate certain features in your garden. For example, if you have a water feature, you can use fairy lights to highlight the bubbling water or add a bit of drama with flickering flames.
Add a Birdhouse
Is your garden looking a little lackluster? If you're looking for ways to spruce it up, you might want to consider adding a birdhouse. This is a great way to add some visual interest and charm to your outdoor space.
Not only will birdhouses add beauty to your garden, but they can also attract birds. This can be a great way to enjoy the sights and sounds of nature right in your own backyard. If you're not sure how to get started, here are some tips on choosing and placing birdhouses in your garden.
When choosing a birdhouse, it's important to pick one that is the right size for the type of birds you want to attract. Smaller houses are better for songbirds, while larger houses may be better for birds like robins or bluebirds. Be sure to also pick a birdhouse that has adequate ventilation and drainage so that the birds will be comfortable inside.
When it comes to placement, you'll want to put the birdhouse in an area where the birds will feel safe. Avoid placing it near areas where there is a lot of foot traffic or where predators might be a problem. You'll also want to make sure that the birdhouse is securely attached to a pole or tree so that it doesn't tip over.
With these tips in mind, adding a birdhouse to your garden can be a great way to spruce it up. This charming outdoor décor piece is sure to add some beauty and interest to your space.
Add Color with Planters and Flowers
Gardens are amazing places. They provide a space for us to relax, gather with friends and family, and simply enjoy the outdoors. But sometimes, our gardens can start to look a little lackluster. One of the easiest ways to add color and personality to your garden is with planters and flowers. You can find planters in all shapes, sizes, and colors, so it's easy to find ones that fit your style. And you can get really creative with how you arrange them. Group them together for a bold look, or spread them out around the garden for a more subtle effect.
If you want to add even more color, fill your planters with vibrant flowers. If you're not sure what kind of flowers to choose, ask your local nursery for help. They can recommend varieties that will do well in your particular climate and soil type.
Create an Outdoor Living Room
Another great way to spruce up your garden is by creating an outdoor living room. This is a great spot to relax and entertain guests, and it can be as simple or elaborate as you want. Start by adding a comfortable seating area, like a sofa or armchair. Then, add a coffee table and some side tables for drinks and snacks. And don't forget to add some lighting so you can enjoy your outdoor living room well into the evening.
If you have the space, you could even add an outdoor kitchen. This is perfect for summer BBQs and entertaining friends and family. And it doesn't have to be expensive or complicated. A simple grill and prep station will do the trick.
Add Some Vintage Finds
One of the best ways to personalize your garden is with vintage finds. You can scour garage sales, flea markets, and antique stores for interesting pieces that will add character to your space. Look for things like old metal planters, birdcages, and even furniture. And don't be afraid to give them a new coat of paint or some TLC to make them really shine.
Upcycle Something Unexpected
If you're looking for a unique way to spruce up your garden, try upcycling something unexpected. This could be anything from an old ladder to an old door. Get creative and think outside the box. You might be surprised at what you can come up with.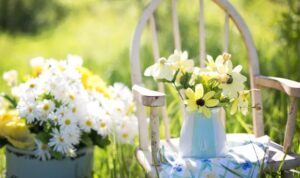 These are just a few of the many ways you can spruce up your garden with outdoor décor. With a little imagination and effort, you can transform your space into a beautiful oasis that you'll enjoy for years to come. So get started and see what you can create.