The marketing process can be a real challenge for individuals and companies, especially when there's loads of competition. That's why people research how to get 1,000 active followers on Instagram in one day, and seek ways to increase their email address lists. In this article, we've put together some proven guidelines to help you create an effective business marketing strategy. They'll make it easier for you to reach your target audience and achieve your desired results.
What Is Business Marketing?
This is also known as industrial marketing or B2B marketing. Companies that engage in business marketing sell products or services to other companies or organizations. The goal is to create long-term relationships between a company and its customers. It involves creating and delivering value to customers through the use of marketing mix elements such as product, price, place, promotion, and people.
Business marketing varies from consumer marketing, for instance:
The buyers are businesses rather than individuals.

Businesses buy for reasons other than personal use. They buy products and services to produce other products and services or to resell them at a profit.

The decision-making process is more complex, with business buyers usually involving several people.

The relationships between businesses and their suppliers are often long-term.
Let The Internet Be Your Teacher
By doing a simple Google search, you can read articles and blog posts, watch videos, and listen to podcasts from marketing professionals. You can also download eBooks, watch webinars, and take online courses. In terms of B2B marketing, you can learn the fundamentals and create a marketing plan to grow your business. You can also read articles about affiliate marketing and growth marketing, and download blog calendars.
There's no one-size-fits-all approach to marketing, and what works for one business might not work for another. Experimentation is key, so find what works for you and your business and then run with it. Also, remember that businesses are constantly changing and evolving. That's why it's important to go online and stay up-to-date on the latest trends and changes in the world of business marketing.
Establish A Social Media Presence
Social media is a platform where you can share your business content, whether it's articles, videos, or images. There are many different platforms to choose from, but some of the most popular ones for businesses are Facebook, Twitter, LinkedIn, and Instagram. It's best to have a presence on more than one platform. If you're not sure which to choose, take some time to research each one and see which would be the best fit.
Next, you need to start creating regular high-quality content. This could include blog posts, infographics, videos, or even just helpful tips and tricks. In turn, you'll develop a loyal following who'll view you as an authority, and someone they can do business with. There are also paid options for social media, such as boosting posts or running ads. These can be effective but also expensive, so it's important to do your research beforehand.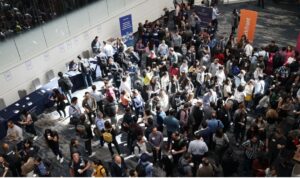 Attend Industry Events And Trade Shows
These are gatherings of professionals in a particular industry, where they network and showcase their products or services. They can be excellent opportunities for companies to market their business to a captive audience of potential customers or clients. To make the most of these occasions, businesses should have a plan for how they'll promote themselves at the event.
This might include having promotional materials such as flyers and brochures to hand out. You'll also need a stand/table and staff who are knowledgeable about the company and what it has to offer. It's also helpful to hold competitions or giveaways at trade shows to generate interest in the business.
Create A Quality Website
Your website will often be the first impression potential customers have of your business, so make it a good one! It should be informative, user-friendly, and visually appealing. To create a quality version, you'll need to invest in good web design and development services. It's also worth paying for hosting so that your site is always available online. Don't forget to register a domain name that's relevant to your business, as this will make it easier for people to find you online.
You should include calls-to-action (CTAs) on every page. A CTA is simply an instruction to the reader telling them what you want them to do next. For example, if you want them to sign up for your email list, include a CTA telling them to do just that. CTAs should be clear and concise, and they should stand out from the rest of the content on the page. Blogging is a great way to provide valuable information to your target audience. It can also raise your Google ranking and increase the online traffic to your sales pages. Try to post fresh offerings at least once or twice a week.
Invest In Search Engine Optimization
Fundamentally, SEO is the practice of optimizing a website to rank higher in search engine results. Its first step involves identifying the words people use on Google searches when they look for similar products and services to yours. The benefits of SEO are:
More visibility for your website, which leads to more traffic and potential customers
Better ROI than other marketing channels like paid advertising
Some of the common ways to optimize a website for SEO include:
Using keyword-rich titles and descriptions

Optimizing website speed and performance

Publishing high-quality, original content

Promoting your website on social media

Building backlinks from other high-quality websites.
SEO can be complex and time-consuming, but it can pay off. If you need help getting started, there are plenty of resources available online and from marketing agencies.
These proven guidelines can help make your business marketing easier than ever. The internet can teach you, and you can begin using blogs and social media to promote yourself. You can attend trade shows and industry events, and use SEO to maximize your business website. In turn, you'll reach your target audience as never before, generating revenue and establishing yourself as a long-term company.