If you're buying a new or used car, it's a significant investment, so you need to weigh all your options carefully. When buying a used car, it is crucial to be mindful of a few key things in order to get the best possible deal. For first-time buyers, this can prove far more challenging than you might expect. Fortunately, this post will provide you with some pointers on what to do to end up with the car of your dreams (and at the right price!).
Ensure You Buy From A Reputable Dealer
You already know that buying a car is one of your most important purchases. As such, ensuring you are getting the best possible deal is vital. One way to protect yourself from being taken advantage of by a shady used car dealer is to buy from a reputable dealer. When looking for used cars for sale, you can be sure that genuine dealerships will have their vehicles inspected, valeted, and ready to go in pristine condition. They will also have an established track record of making good deals with their customers and providing excellent customer service. This means that they will be much more likely to stand behind what they sell and offer assistance if something goes wrong with your purchase later on down the line.
Decide On A Budget
Your budget is one of the most important factors when buying a used car. It is crucial to set a reasonable budget and not exceed that limit. The first big question you must ask yourself is how much money you must spend. If you want to avoid taking out additional finance, you will need to consider other options like borrowing from friends or family. Once you have established what you have to spend, it is time to consider what models and features you require. Nevertheless, it always helps to have some flexibility regarding your budget as you will have more options to choose from. Furthermore, your budget should take into account the additional costs involved with running your used car, especially if it's out of warranty.
Understand The Ancillary Costs Involved With Certain Models 
In some cases, you might discover the most fantastic deal on a used Mercedes with very few miles on the clock. While this might look like a steal, you might be out of pocket when it comes time to insure it or have it serviced. Some brands are notoriously expensive to maintain, and if you cannot afford the costs involved, you might find yourself with a fantastic car you can't drive.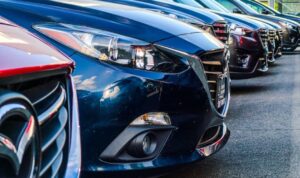 Think If You Will Need Finance
If you thought finance was only for new cars, think again! Almost all used car dealers can provide you with various financing options to help you fund your choice. However, you should be aware that there are pros and cons to financing such a large amount of money.
Pros
You can afford more:

Financing allows you to buy better options than you otherwise might if you rely on savings.

It usually involves reasonable monthly payments:

Although it is also listed as a con, if you're sensible, you'll find your monthly payments aren't as bad as you thought. 

You will own the vehicle at the end of the plan:

The final payment is the sweetest you'll ever make because that will be the day you finally own the car.
Cons
You have monthly payments:

Even if you manage to reduce the amount to a level you are comfortable with, you will still have to pay every month on time.

It can be costly:

While relatively low repayments look great, you will ultimately end up paying more for the vehicle than you would have if you bought it with savings.

There may be a down payment required:

Even if you manage to secure a loan, you may still have to find a lump sum for the down payment. 
Find Out What Your Trade-In Is Worth
Prior to trading in an existing car, you should do some research on its value. You can usually use The Kelley Blue Book also has a website that you can use to get an estimate of how much your car might be worth. To do this, you will need to enter basic information about your vehicle, including the make and model, when it was manufactured, and where it was manufactured. You can also enter in any special features, such as whether or not it has air conditioning or if there are any after-market modifications. The primary reason for researching yourself is to have a general idea of what to expect when you take your car to the dealership. However, you should also be aware that you may not get the price you believe it's worth. Nevertheless, you won't have any issues as long as you remain slightly flexible.
Consider What You Will Use The Car For
It doesn't matter if you're looking for a new or used vehicle; if it doesn't fit your needs, you should remove it from your shortlist. For example, if you need a bigger car with more storage space and want something reliable and cheap, then a station wagon might be a good choice for you. If, on the other hand, safety is your priority and fuel efficiency isn't an issue, then a small sports car might be more suitable.
Make Sure It Has A Good Fuel Economy
Unless you've been hiding under a rock this year (nobody would blame you!), you have probably noticed the cost of just about everything has skyrocketed. Consequently, looking at models with good fuel economy might be worthwhile to save some money in the long run.
See How Long Is Left On The Warranty
Just because you are buying a used car doesn't mean you need to miss out on the warranty. Most cars have three-year warranties and can sometimes be transferred to new owners. Therefore, you should check to see if you have any warranty left. If not, purchasing a third-party warranty could be worthwhile for peace of mind.
Investing in a second-hand car can be a great way to save money. If you do your research and take your time, you can end up saving thousands. Hopefully, this post has provided you with some tips on what to look for so you get the best deal possible.