Home offices have been increasingly popular in recent years, especially as more business owners opt to launch online businesses from their homes. As a result, more individuals are starting to think about how cozy their workspace is and if it has all the equipment they need. One of two things may occur when you start to set up an office environment in your home. Either you'll overestimate or you'll underestimate the amount of equipment you'll need to open your workplace. In any scenario, you can rapidly find yourself having trouble. Use this checklist to create an organized list of the things you need for your home office and how to find the highest quality!
Standing Desk
Your desk should be the focal point of any effective and personalized work-from-home setup. The top standing desks on the market today can reduce or perhaps stop a sedentary lifestyle. It is impossible to overstate the advantages they provide to those of us who work all day in front of computers. There are so many options available, from a budget standing desk, that can give you the best bang for your buck, to sit-stand desks. So, how to find the best fit for your needs?
The size of the desk should be taken into consideration as a key element. Standing desks are available in a range of sizes, from compact ones for a single person to big ones for many people. Make sure the desk you select will fit comfortably in your office area. The height of the desk should be taken into account next. When typing, your forearms should be parallel to the ground, your elbows should be at a 90-degree angle, and your feet should be flat on the floor, whether you are seated or standing. In addition to these, you should also pay attention to a few other important factors, such as comfort and durability.
Ergonomic Chair
It's crucial to have an ergonomic office chair that supports the lower back, encourages excellent posture, and prevents the development or aggravation of back issues. Yes, ergonomic office chairs are more expensive than regular ones, but consider them an investment in your productivity and well-being. An ergonomic chair has to include a variety of features, such as adjustable armrests, lumbar support, seat height, width, and depth. Additionally, the cushioning on the seat and back of the office chair should be sufficient to make it pleasant to sit in for extended periods of time. The breathable textile material is preferred over a surface that is tougher.
Try out chairs in person, is what we suggest. Even though reading a chair's specifications might teach you a lot about it, it's still a good idea to sit on the chair before buying it. You can determine how comfortable a chair is and whether it can be changed to suit your needs by testing it out in person whenever you can.
Computer
Any person who works from home will require some sort of computer. Choosing a home office computer with the proper specifications is where most people become perplexed. On appearance, every computer is identical, but the crucial variations are all concealed within the casing. Your office job requirements must be one of the first things you establish. This will serve as the starting point for buying a desktop or laptop since it will guide your demands for system specifications. You don't need a powerful processor or a large budget if you merely use your computer for surfing or word processing. The most recent CPU generations have plenty of power and can quickly process less demanding apps. Here, a Ryzen 3, or an Intel Pentium, may operate quite well. However, if you need somewhat more demanding programs, Ryzen 5 or Intel processors (and upwards) will perform better.
High-Speed Internet
Dial-up connections are no longer usable; those times are long gone. If you want to work effectively online, you need a broadband connection since rapid internet speeds enable you to complete tasks more quickly. Compare the costs of plans with comparable speeds from competing ISPs before choosing one. For instance, if a telephone company provides a plan with 15 Mbps download and 5 Mbps upload speeds, find the nearest available plan from a cable provider with the same speeds. Check the contract conditions, bundle prices, and business use as well. Although you have some cancellation options, doing so might result in significant cancellation costs. Therefore, it is preferable to get the correct broadband up front.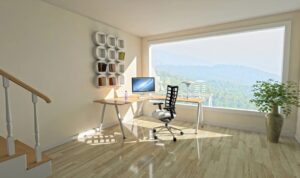 Printer
Over the past several years, there hasn't been much of a shift in printers; they have only gotten more effective and less expensive. Laser and inkjet printers, color and black-ink only printers, and print-only and multifunction devices are all still options. Because there are so many options, it's a good idea to decide what you want before selecting "purchase" at your preferred online store. We caution you not to settle for ridiculously low-cost printers when doing your research. The majority of cheap printers employ pricey cartridges that print a few pages and use a lot of ink, necessitating repeated expensive replacement purchases. Always search for printers with several connectivity choices, including NFC, USB, cloud printing, and Wi-Fi.
Task Lighting
It's crucial for your health to have adequate lighting at your home office. However, it's a component of the work-from-home setup that's frequently disregarded. Many people only use the available room lighting, or they want to work in complete darkness while relying on screen illumination. You may choose the strength and direction of your light source with task lighting. An anglepoise or other adjustable-arm desk lamp is a great option since it can direct light precisely where it is needed. Remember that poor lighting at work can cause headaches and eye strain. Or you can find yourself working in really uncomfortable positions if there is too much glare.
While your work responsibilities ultimately determine what you need for your home office, there are several essentials that almost everyone uses. Finding and selecting the finest ones is a difficult effort, but keeping in mind the aforementioned factors will undoubtedly make your decision easier!