The most important decision you'll have to make is choosing the correct hosting service for your website, which shouldn't come as a surprise. While there are lots of possibilities, it is important to select the appropriate one that is well-optimized for your specific requirements. For example, your favorite operating system.
A shared hosting service is a well-liked choice when it comes to web hosting services among start-up companies or small organizations. Besides that, a shared plan specialized to Windows OS is a common choice among newcomers. The main reason for this is because these servers, which feature a Windows system, get constructed and are particularly suited to satisfy the owner's individual needs. That is why many users enjoy Windows Shared web hosting.
This article will cover all the significant information regarding Windows hosting, including what it is, how it works, its benefits and downsides, and most importantly, why it could be the best option for your objectives.
What is Windows Hosting?
Generally speaking, Windows hosting refers to hosting environments in which the Windows operating system and its variations are installed on web servers. When hosting a website or web page on Windows, you can easily utilize the programming and web technologies features provided by the Windows operating system. Windows is the most widely used computer operating system in the world from a broad consumer perspective, and as a result, consumers and administrators prefer it when choosing a hosting provider.
As the most recognizable front-line product from tech giant Microsoft, Windows is regularly getting studied and improved in a wide range of technological areas to support new scripts and programming languages. Also, Access is a database management system that many web developers and programmers use globally. When you use Windows web hosting, database technology is the greatest solution for storing and integrating your website.
What Are The Advantages of Cheap Windows Shared Hosting?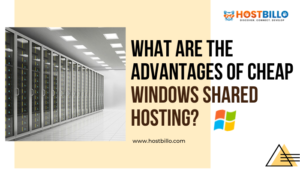 For their unique practical reasons, several business owners favor Windows Shared hosting services. These services have huge advantages, including cheaper costs for smaller businesses, particularly those with high website demands.
Despite a few critical shortcomings, it is a brand with significant broad appeal and therefore offers reliable competition for Linux as a hosting system.
With the powerful Microsoft branding and research output behind it, it has the potential to change over time and overcome many previously identified weaknesses.
Supports most of the other popular web programming languages, including Microsoft Sharepoint, ASP.net, and ASP. This would be undoubtedly a factor in their benefit when compared to Linux. When compared to Linux, Windows offers similar amounts of flexible web development options and even supports PHP.
MS SQL and MS Access are larger and more programming-friendly operating databases.
What are The Disadvantages of Cheap Web Hosting Windows?
Windows hosting certainly has its benefits, but you should be aware of a few disadvantages before starting your online venture.
It is a much more expensive hosting system than Linux because it is not free or open-source software. Therefore, Windows hosting plans could be slightly more expensive than Linux depending on your hosting needs.
Because it does not support a wide variety of such programming languages as Perl, Ruby, Python, CGI script, etc., it is less successful than Linux in developing design-specific, deeply informational content for the web.
According to professionals, Linux is now more secure than Windows as a hosting platform.
Who Should Use Cheap Hosting Web Windows?
Windows hosting is essential for the effective execution of some scripts and web languages. The fact that Windows systems often support ASP and ASP.net is a significant advantage in terms of Windows hosting features. In a Windows server environment, MS SQL and MS Access are supporting databases. This platform also supports C# and Visual Basic Development. When you are specific about these technological characteristics while selecting a web hosting service, Windows hosting gets suggested.
How to Get The Best Windows Shared Web Hosting Plans?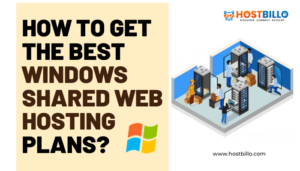 The management of a web hosting platform can be a difficult task, especially for someone lacking the necessary technical understanding. By offerWindows hostinging simple features for your convenience, the best Windows hosting helps to ease your worries. Given that the majority of people are familiar with the Windows operating system, choosing a product of your web hosting services is a lot easier than learning a foreign language.
The hosting service offered by Hostbillo is the one to choose if you're searching for a dependable and trustworthy Web hosting Company. They provide a broad choice of solutions for Windows shared Hosting plans and also provide effective web hosting services.
All of the plans at Hostbillo have a fair value connected to them just because the company gets focused on its customers. Also, their service gets supported by cutting-edge technology and functions. The Windows shared Hosting services from Hostbillo include high-quality tools and dependable resources. Additionally, Hostbillo tries to provide outstanding technical support to its clients 24 hours a day.
It includes the following features:
7-day money-back guarantee
You can instantly select your preferred operating system, resources, and data centers.
Standards for high security
Windows server with the most recent software
Conclusion
Windows Web hosting is one of the most basic and accessible choices on the market for consumers with no prior knowledge of website hosting solutions. Also, because most people are already comfortable with Window's technical aspects, there is a high demand for these kinds of services among newer website owners.
Particularly for small and midsize organizations, shared windows server hosting will be a great choice. You could launch your company online today with the simplicity and comfort of Windows hosting.
We recommend that you first identify your criteria and website demands; after you realize the important need for the website, you will be able to simply select the best services.